Conservatory Roof Replacement Warwick
If you're looking for a conservatory roof replacement company in Warwick, look no further than Smart Conservatory solutions. We provide Tiled Conservatory Roofs, Insulated Conservatory Ceilings, Solar Glass Roofs, A+ Windows & Doors. As well as covering Warwick, we also cover the wider areas of Warwickshire and surrounding areas. We provide the complete solution to fully insulate your conservatory to be used all year around, and also save up to 85% heat loss!
Speak to one of our advisors today for a free consultation on 01604 713335, or fill in our form below and one of our experts will be in touch with you.
Year-round Comfort with a Solid Conservatory Roof in Warwick
Conservatories have been apart of the everyday aspect of building works for many decades. And many homes in the UK have a conservatory attached – this is very common. Conservatories can add value to a home and provide an extra living space. However, the problem with most conservatories is that they were built with either glass or polycarbonate – which aren't the best for insulation – thus making the room too hot in the summer, or too cold in the winter. What we do here at Smart Conservatory Solutions is provide a range of options that brings the balance to your conservatory, so it can be used all year around.
Here at Smart Conservatory Solutions, we have a breadth of experience in providing a range of replacement conservatory roof-based services, that takes us all over the UK. We cover the entire Warwickshire region, and can work on most conservatory types. Our company and work are both fully compliant with all building regulations, whilst being authority certified and underwritten by the Consumer Protection Association.
We are also one of a handful of conservatory tiled roof fitters in the UK approved by TrustaTrader. We've helped thousands of homeowners over the years turn their conservatories into a room they can enjoy all year round, and we can do the same for you. We also offer a range of finance options, so be sure to enquire with us to discuss your options.
Tiled Conservatory Roof in Warwick
Our tiled conservatory roof conversions provide a comprehensive range of desirable looking options, all equipped with maximum flexibility so we can match the style of your preference.
Tapco slate – Lightweight, Authentic look of a slate, Fire rated, compliant with building regs, available in 6 standard colours, manufacturer backed guarantee, no colour loss after years, pitch as low as 14.5°, efficient installation, maintenance free
Britmet tiles – 6 British profiles, up to 7x lighter than the real tiles, Fire rated, compliant with building regs, available in 6 standard colours, manufacturer backed guarantee, no colour loss after years, pitch 5 - 90°, Quick installation, Maintenance free
All of our tile options are BBA approved.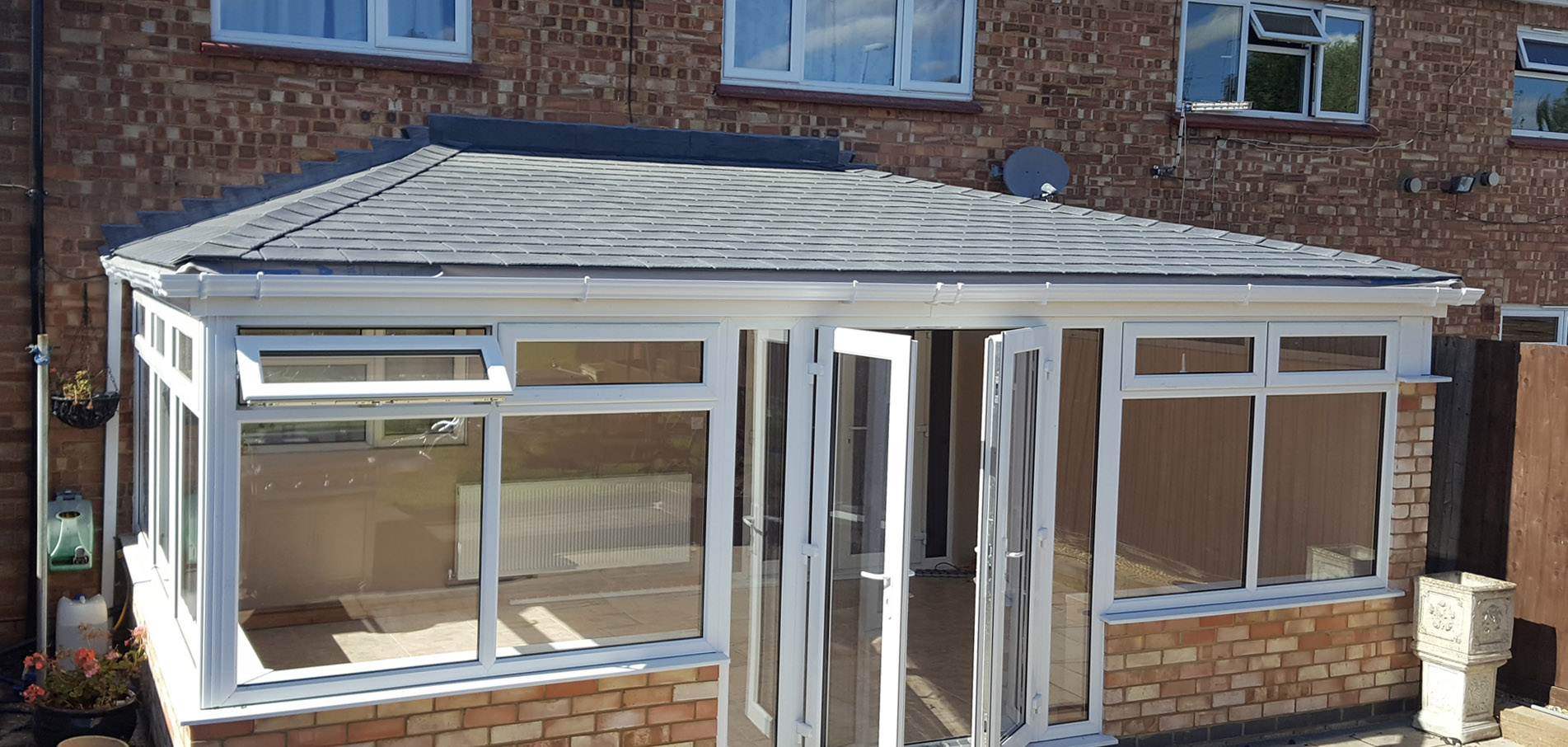 Why Choose us For Your Conservatory Roof Replacement in Warwick?
We have been in the industry for many a year and have built up a portfolio of working with all varieties of conservatories over the years. We pride ourselves on the quality of our craftsmanship and the end result we provide for our customers.
Here a few additional benefits of having Smart Conservatory Solutions complete the transformation:
Finance options available – anywhere from 6-60 months on all our products
10-year guarantee.
Customer Protection Association approved craftsman.
Best value for money and quality craftsmanship
Absolutely no subcontracted work.
If you're interested in getting a quote for your conservatory, either call us on 01604 713335 or complete the form below, and our team will get back to you.
Lines Open 7 Days a Week - 8am-8pm
Call us on 01604 713335, to find out about our replacement conservatory roof options
10 reasons to choose Smart Conservatory Solutions for your replacement conservatory roof
Find out more about our replacement conservatories roof options – or get in touch for FREE advice and a FREE quote today.

You can rely on our amazing reputation - 100% customer satisfaction recorded on all recent surveys.
Our rock solid guarantees are underwritten by the CPA, who also protect the deposits.
Our accreditation includes the Consumer Protection Association and Approved Trades Register.
Checked and approved by TrustaTrader with numerous glowing testimonials.
Every tiled roof that we expertly install is fully inspected, certified and approved by local authority building control.
Our service is excellent value for money and our prices are highly competitive – with the added opportunity to improve your property and increase its value.
We only use quality, branded materials with up to 40 years manufacturer's guarantee.
We offer a range of finance options from 6-60 months for all of our services.
No pushy sales tactics – just a professional, friendly approach and excellent customer service.
We always provide free advice and a free quotation and if you love our service – why not use our reward scheme? You will get £50 for written quotation and another £100 if your friend or family goes ahead!