Conservatory roof replacements in Gloucester: a new look for your home
Long hailed as one of the best ways to add space to a home, a conservatory can add value by providing an all-year-round living space for homeowners. Over the last 20 years, the technology and engineering behind conservatories have progressed at a rapid rate which has left some people with a conservatory that simply isn't fit for purpose anymore. A room that seemed like a great idea at the time has now become a nightmare in reality; homeowners up and down the country are left with a room that is overwhelmingly hot in summer and freezing cold in winter, rendering the room almost entirely unusable throughout the year.
How a replacement roof might help bring joy back to your conservatory
Given that a lot of the first conservatories built through the 80s and 90s used what is now known to be inefficient methods and materials, a lot of research has been conducted to understand why and more importantly figure out how to bring these conservatories up to modern-day standards. One key finding has been that the polycarbonate tiles, commonly used as the material of choice for early conservatory roofs are extremely poor insulators which have been a big cause of the heating issues found in many conservatories. We've noticed over recent years that more and more people have been coming to us to find out more information about getting a conservatory roof replaced in Gloucester as they look for a last resort option before spending large amounts of time, demolishing and sometimes rebuilding their once prized possession.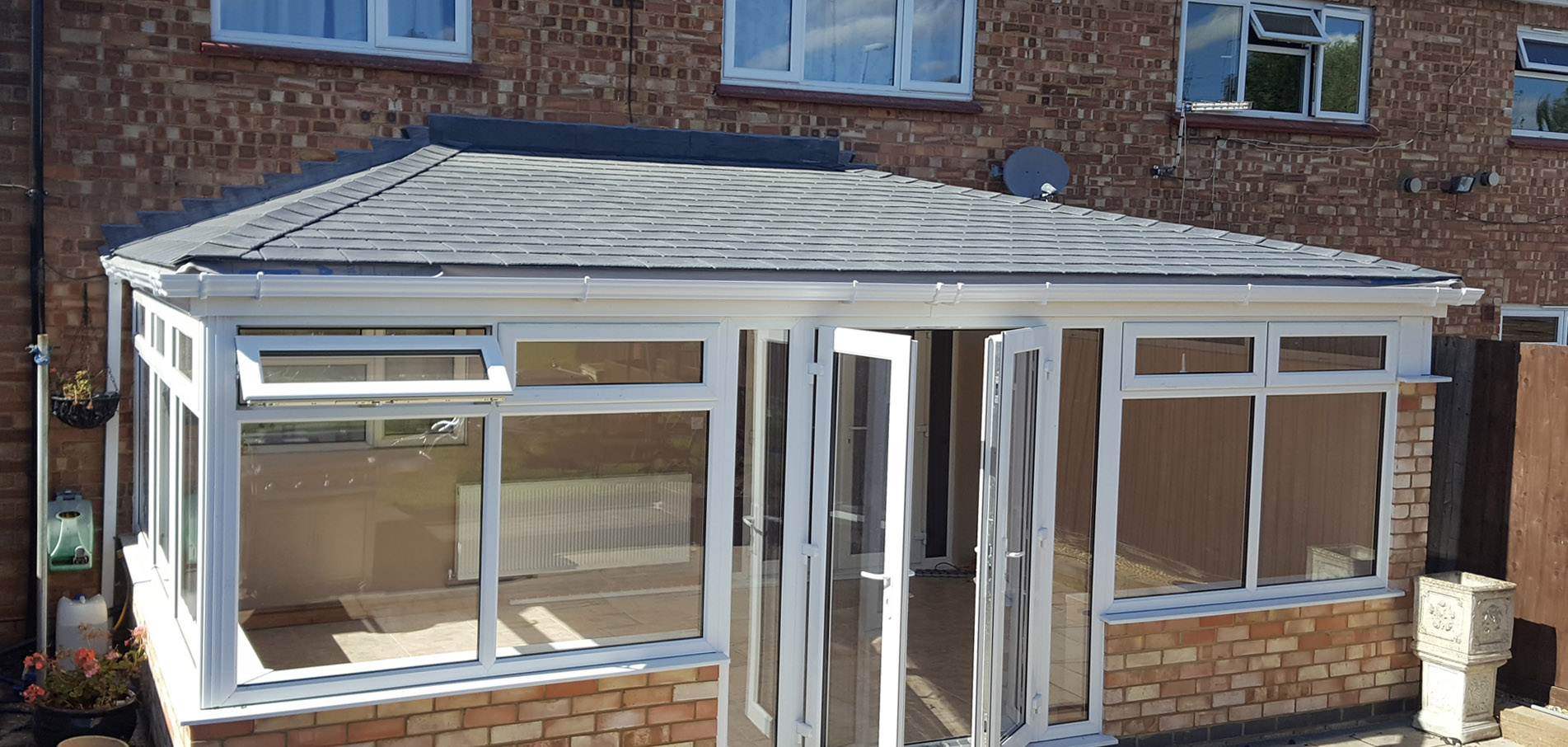 All our conservatory roof replacement services are all carried out by trained professionals with years of experience working with homeowners looking to improve their current situation. We're incredibly proud of what can be achieved with a roof replacement and above and beyond the modern look and a room that really can be used all-year-round, we've even seen customers save up to 90% on heating costs from their conservatories.
Why Smart Conservatory Solutions can help
Our team work tirelessly to help clients achieve what they set out to get the first time around. A room that can be used all-year-round that is functional and doesn't cost the earth. Working to understand what will work for you allows us to select some options from our extensive range of finishes and from here we can refine it down to your final replacement specification.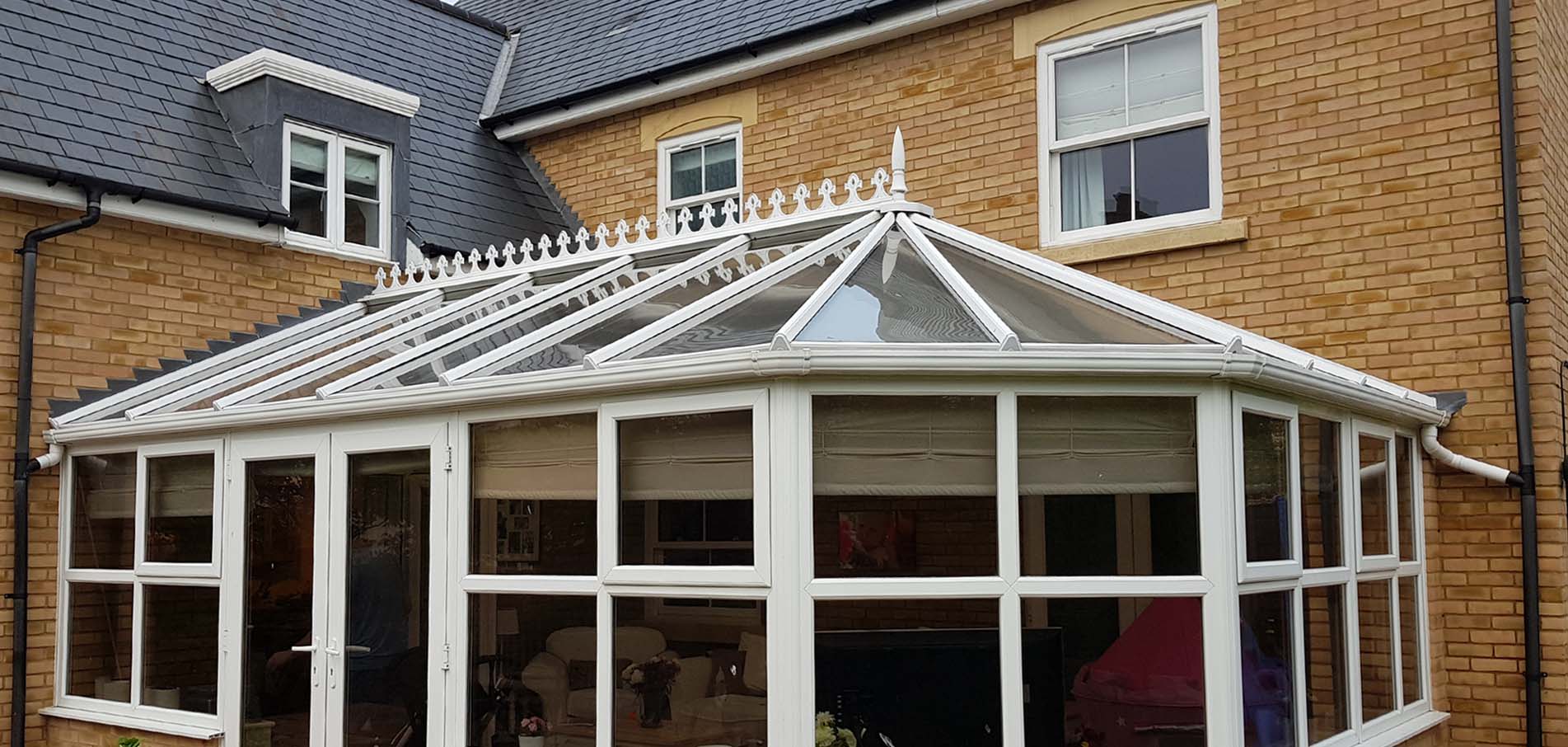 Tiled Conservatory Roof Replacement in Gloucester
Every conservatory roof replacement in Gloucester that we carry out comes with a 10-year guarantee so that you can be safe in the knowledge that your investment is safe. We also help provide great value for money and interest-free finance for up to 12 months meaning that the cost of having a roof replaced can be split over a year, making the decision a little easier on the purse strings. Our completely in-house team is made up of Customer Protection Association (CPA) approved craftsmen and we never subcontract any work out meaning what you get is an excellent level of service and finish.
If you're looking for conservatory roof replacement in Gloucester and the surrounding areas, then we can't wait to hear from you. Send us a message or call us today on 01604 713335.
10 reasons to choose Smart Conservatory Solutions for your replacement conservatory roof
Find out more about our replacement conservatories roof options – or get in touch for FREE advice and a FREE quote today.

You can rely on our amazing reputation - 100% customer satisfaction recorded on all recent surveys.
Our rock solid guarantees are underwritten by the CPA, who also protect the deposits.
Our accreditation includes the Consumer Protection Association and Approved Trades Register.
Checked and approved by TrustaTrader with numerous glowing testimonials.
Every tiled roof that we expertly install is fully inspected, certified and approved by local authority building control.
Our service is excellent value for money and our prices are highly competitive – with the added opportunity to improve your property and increase its value.
We only use quality, branded materials with up to 40 years manufacturer's guarantee.
We offer a range of finance options from 6-60 months for all of our services.
No pushy sales tactics – just a professional, friendly approach and excellent customer service.
We always provide free advice and a free quotation and if you love our service – why not use our reward scheme? You will get £50 for written quotation and another £100 if your friend or family goes ahead!
Did you know?
Even more benefits you may not have considered:
Use your converted special room now for a much wider range of purposes, a dining room, living room, pool table room, office or simply as a quiet and comfortable place where you can relax and enjoy your garden. The value our conversions can bring are more than just a lifestyle improvement however. They can
Reduce the heating costs for your conservatory by up to 90%
Cut down noise and glare
Reduce cleaning and upkeep costs
Add to the sale value of your home
Call us on 01604 713335, to find out about our replacement conservatory roof options