Modernise your home with a replacement conservatory roof in Haverhill
Conservatories can often make or break a home's overall look and feel. From murky polycarbonate to cracked glass and an uncomfortable environment, many homeowners choose to startafresh by removing it entirely or building a new extension.
Ifyou'relooking for a replacement conservatory roof in Haverhill, Smart Conservatory Solutions have you covered. Our replacement conservatory roofs can help make your conservatory a more comfortable place all year round. With expert knowledge and experience behind us, we can advise you on the bestroofing solution for your needs and budget.
Speak to one of our advisors today for a free consultation on 01604 713335, or fill in our form below and one of our experts will be in touch with you.
Why should I replace my conservatory roof?
There are many reasons to replace your conservatory roof, but the most common one is to improve the thermal efficiency of the space. A poorly insulated conservatory can be difficult to use all year round, as it can get too hot in the summer and too cold in winter. This is because traditional conservatory roofs are made from single-glazed glass or polycarbonate, which doesn't insulate the space very well.
Replacing your conservatory roof in Haverhill with an efficient thermal option will help regulate the temperature in your conservatory, making it a more comfortable place to be all year round.It will also reduce your energy bills as you won't need to use the heating as much during the cold winter months.There are a few different options available when it comes to efficient thermal roofs, including:
Tiled Conservatory Roofs
The Supalite roof is a lightweight, energy-efficient roofing system that helps to keep your home cooler in summer and warmer in winter, making it a popular choice for conservatory upgrades. The insulated panels reflect heat, keeping your home comfortable all year round. A Supalite roof consists of high-quality synthetic tiles fixed to an aluminium frame. The result is a tiled conservatory roof that looks and feels just like a traditional tiled roof on a house extension. .
Solar Controlled Glass Roofs
Another alternative is solar-controlled glass. Solar-controlled glass is a particular type of glass that reflects sunlight, keeping your conservatory cooler in summer and reducing glare. This means you'll get more out of your conservatory for longer periods during the year because it will stay at a constant temperature. Unlike a full insulated ceiling or tiled roof conversion, a solar-controlled glass conservatory maintains the light inside. It makes the space significantly cooler and more pleasurable to spend time in, especially during the summer.Solar-powered glass reduces rainfall and traffic noise compared to 25mm polycarbonate or single-plane glass panels.
Insulated Conservatory Ceilings
Conservatory ceiling insulation is an excellent option as it requires no significant structural modifications to the room and can be easily integrated without affecting the height of the ceiling. It can be perfectly matched to the interior of your home and will provide good acoustic and thermal insulation.
Where can I obtain a new conservatory roof for the best price?
Smart Conservatory Solutions are always happy to run through your ideas, talk to you about the benefits of a replacement conservatory roof in Haverhill or provide expert advice on how you can maximise energy-efficiency and comfort. We can assist you in selecting the right solution for your home and provide a high-quality, hassle-free, and professional installation.
We take pleasure in the high quality of our work and the high praise we receive from our clients, so rest assured we mean what we say. All of our services are guaranteed and come with a best-in-class 10-year warranty. To learn more about us and how we can help you, please call us on 01604 713335.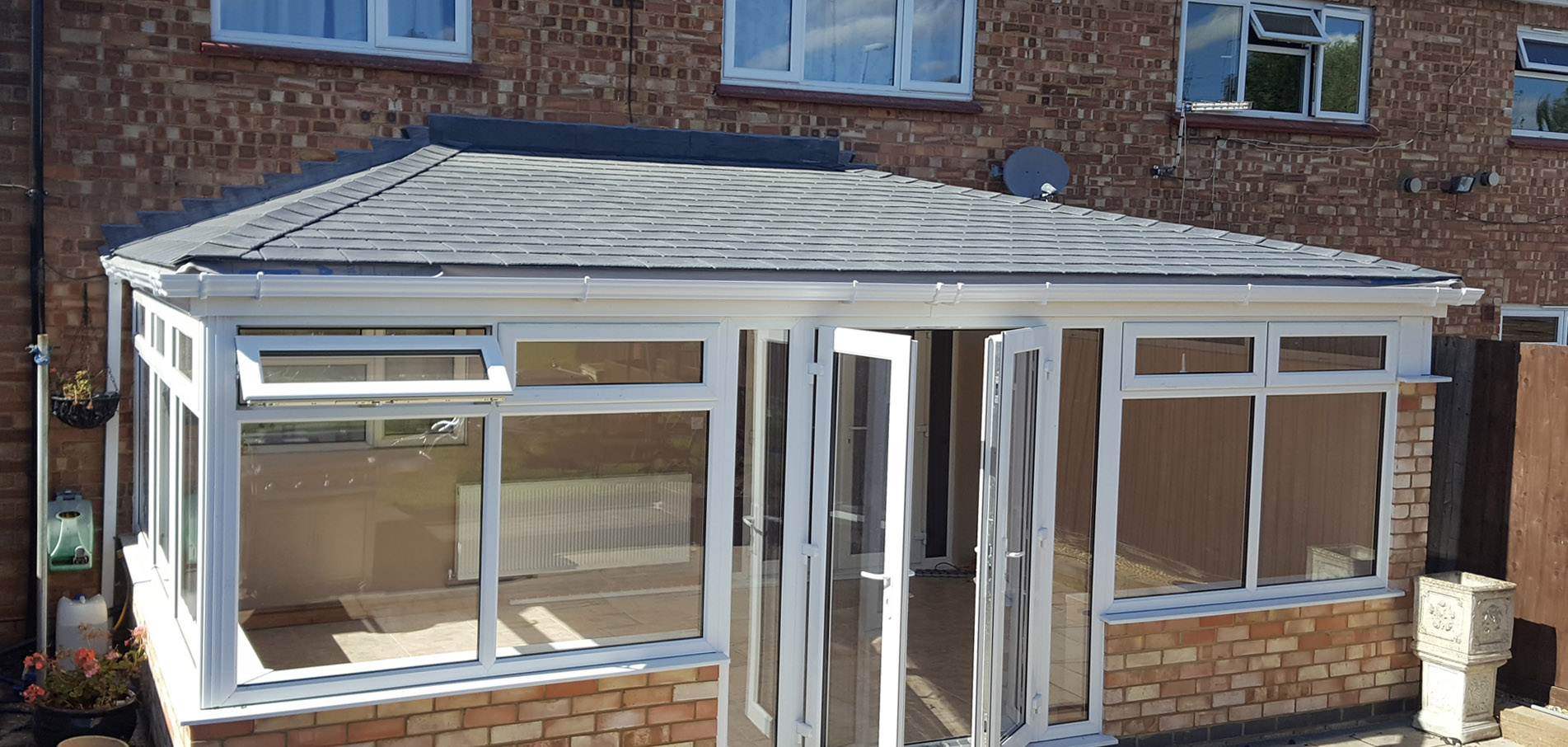 Lines Open 7 Days a Week - 8am-8pm
Call us on 01604 713335, to find out about our replacement conservatory roof options
10 reasons to choose Smart Conservatory Solutions for your replacement conservatory roof
Find out more about our replacement conservatories roof options – or get in touch for FREE advice and a FREE quote today.

You can rely on our amazing reputation - 100% customer satisfaction recorded on all recent surveys.
Our rock solid guarantees are underwritten by the CPA, who also protect the deposits.
Our accreditation includes the Consumer Protection Association and Approved Trades Register.
Checked and approved by TrustaTrader with numerous glowing testimonials.
Every tiled roof that we expertly install is fully inspected, certified and approved by local authority building control.
Our service is excellent value for money and our prices are highly competitive – with the added opportunity to improve your property and increase its value.
We only use quality, branded materials with up to 40 years manufacturer's guarantee.
We offer a range of finance options from 6-60 months for all of our services.
No pushy sales tactics – just a professional, friendly approach and excellent customer service.
We always provide free advice and a free quotation and if you love our service – why not use our reward scheme? You will get £50 for written quotation and another £100 if your friend or family goes ahead!