The age-old problem with conservatories is that they are too warm in summer and freezing cold in winter, meaning they offer few practical usage options. If you wish you were getting more from your conservatory, you're not alone. Did you know that you can solve this problem quickly and simply by upgrading the roof? We're experts in conservatory roof replacement in Wisbech and will help you improve your home quickly, simply and effectively.
New conservatory roofs will:
Improve energy efficiency
Regulate the temperature
Prevent glare
Lessen rain and wind noise
Replace your conservatory roof with a solid tiled roof or modern solar-controlled glass and begin enjoying the benefits, come rain or shine.
Talk to us about conservatory roof replacement in Wisbech. Request your quick quoteand we will be in touch soon.
How Can You Benefit From a Replacement Conservatory Roof in Wisbech?
These are some of the top benefits you can enjoy when you choose to replace your conservatory roof with a modern alternative:
An attractive modern roof that complements the rest of your home
Low U-values of 0.15 – 0.18
Excellent energy efficiency and comfortable temperatures in winter and summer alike
Optional insulation withCelotex board or 19-layer SuperQuilt®
Reduced rain noise
A wide choice of tileswith a 40-year manufacturer warranty
Easy window cleaning, with a roof that can easily support the weight of a person
Full building regulation compliance
You can choose:
An insulated conservatory ceiling. This will keep temperatures consistent, saving up to 90% of heat loss in winter and keeping the room cool in summer.
A solid tiled conservatory roof. More than 95% of conservatories installed in the last 25 years have a polycarbonate roof. Upgrade to a tiled roof for better aesthetics and a more comfortable conservatory that you can use all year round.
Glass conservatory roofs. Modern glass roofs are solar-reflective, anti-glare and highly insulated so you can enjoy natural light without sacrificing comfort. Our replacement glass conservatory roofs are generally installed in just one day.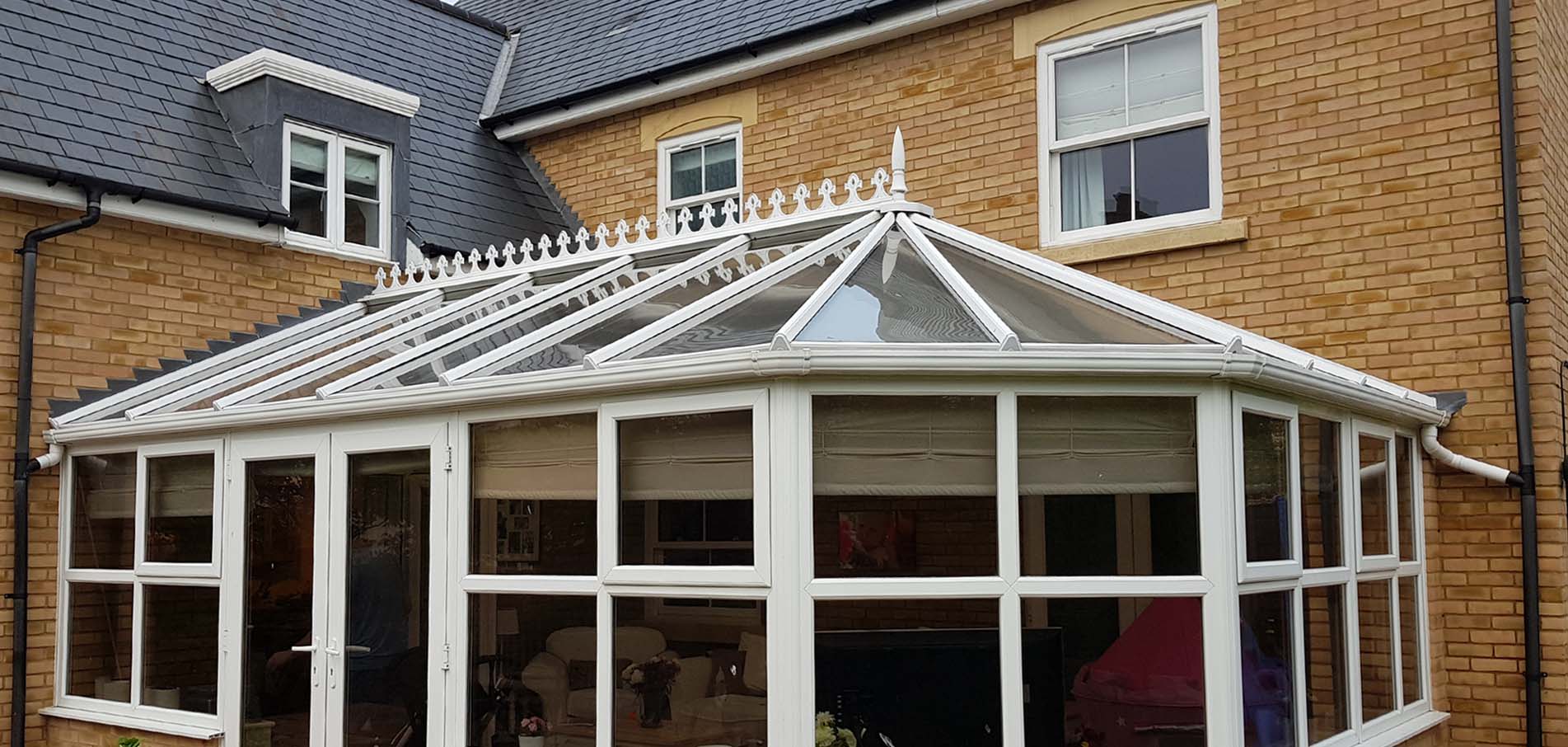 How Can We Help You Improve Your Home with a Conservatory Roof Upgrade
A conservatory roof replacement will enhance your way of life and help to improve the value of your home. Here's why customers in Wisbech trust us for efficient, high quality roof replacement:
100% customer satisfaction rating received in all our recent surveys
A committed, experienced team that takes customer service seriously
10-year guarantees on tiled and glass roofs
Guarantees underwritten by the Consumer Protection Association (CPA)
Verified onTrustatrader
On the Approved Trades register
Call us on 01604 713335, to find out about our replacement conservatory roof options
We cover all areas of Wisbech and will be happy to help you with your roof replacement project in Fitton End, Walsoken, New Walsoken, South Brink, North Brink, Emneth Hungate, Marshland St James, Marshland Smeeth and anywhere else in the surrounding areas.
Talk to us about improving your home and changing your way of life with conservatory roof replacement in Wisbech. Contact usor request your free quick quote.