Conservatory Roof Replacement Kettering – for the Ultimate All Year-round solution !
Are you looking for a more permanent solution to keep your conservatory insulated all year around? Well here at Smart Conservatory solutions, we provide tailored services to keep your conservatory cool in the summer, and warmer in the winter to ensure full year around comfort and access to your conservatory.
We provide fully insulated conservatory ceilings, tiled conservatory roofs, glass conservatory roofs as well as A+ windows and doors. Call us on 01604 713335 to get a quote for our conservatory insulation services.
New, Solid & Tiled Conservatory Roofs in Kettering
If you have a conservatory at your home in Kettering, then you may be fully aware that most of the time your conservatory will be either too hot in the summer, or too cold in the winter. This is because of the lack of insulation methods that weren't in place when your conservatory was originally built. Its known that the building methods in the 70s, 80s and 90s didn't encompass insulation methods for conservatories – making them a lot less fit for purpose. It was through this gap that Smart Conservatory Solutions was born. So rather than knocking your conservatory down and starting a new, we came up with a solution that enables us to update your existing conservatory to keep it fully insulated all year around. So why spend a fortune when you can choose a simpler method, of a complete conservatory roof replacement in Kettering via our team of fully qualified experts.
Advantages of a Conservatory Roof Replacement
We have been in the building trade for many years and have created the paramount of solutions for many homes over the years in updating their conservatories to be fully insulated, for all around better and more effective use. We are fully compliant with current building regulations as well as being cohesive and backed by the Consumer Protection Association. This essentially means that we provide a service that means your conservatory will be fit for purpose no matter what the outside temperatures or conditions are.
What are some of the benefits of a conservatory roof replacement?
Temperature Balance - No more overheating in the summer and no overly cold conditions in the winter – so you can wave goodbye to freezing cold temperatures in the winter months!
Energy Efficiency – Can save up to 90% heat loss
No grand re-structuring – Minimal loss of ceiling height
Added Value to Your Home – a fully insulated; modern insulated conservatory can potentially add a significant figure to the re-sale value of your home
Other benefits include - reduced glare from the sun
Much quieter when it rains
No other changes are necessary to the inside space overall
Our insulated services can work on almost all conservatory types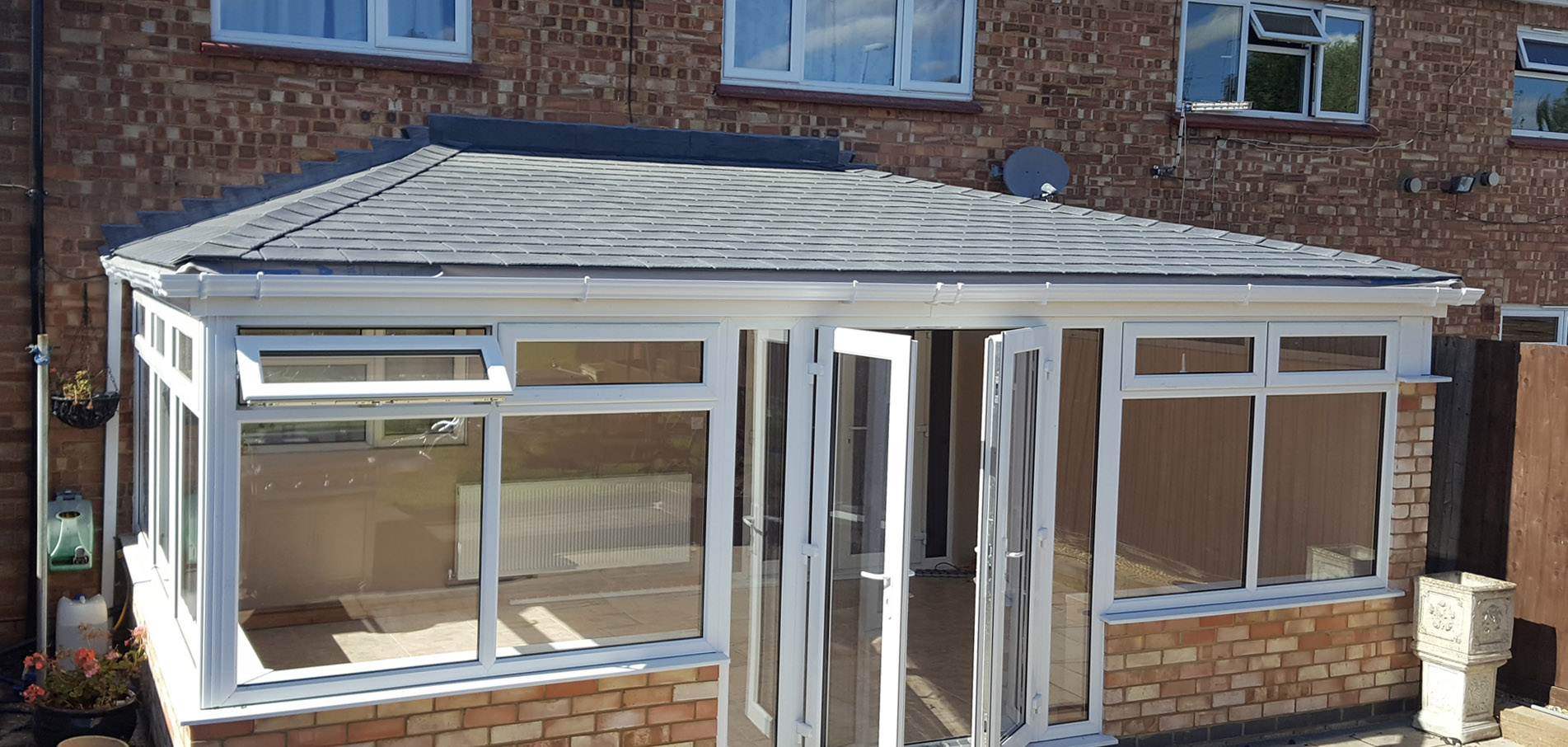 A little bit about us….
Here at Smart Conservatory Solutions, we're absolutely serious about making your conservatory perform better, so it can finally be a welcomed addition to your property that can be used every day. The company ethos is based on the quality of our work and dedication to customer service… but what makes us so unique
Finance Options Available - We offer finance packages on our quotes… so we can work with you on a monthly basis to create a tailored finance package to settle your quote
Experience & Reputation – we are fully checked and approved by TrustATrader with a vast number of glowing testimonials
Manufacturer's Guarantee – we use only the finest quality materials which can have up to a 40-year manufacturer guarantee
Fully Accredited & Regulated – We are fully regulated by the building authorities, including the Consumer Protection Association and Approved Trades Register.
Exceptional Delivery Standards – customer service is at the heart of what we do, and we provide free advice when needed and a free quotation when you consult with us. And that's not all… we also offer a reward scheme… we offer a £50 reposit for any referrals you bring to us that go ahead with a written quotation and another £100 if your friend or family goes ahead!
Need a Conservatory Roof Replacement in Kettering? We'll create a happier and homelier space with year around usability!
We've carried out many conservatory roof replacements in Kettering and the surrounding areas. And so, have vast experience and knowledge of the town. We have over 100+ five-star reviews on TrustATrader and many more throughout our social media platforms… thus making us the primary choice to insulate your conservatory.
We have a combined 20 years plus in this industry, so you can be rest assured that we will provide the best and most affordable solution for you.
Don't forget, we offer finance plans to support the cost of your job…. So, if you're interested in getting a quote from us for insulating your conservatory, then be sure to call our team on 01604 713335, or simply complete the form below and we'll come back to you at the earliest.
Lines Open 7 Days a Week - 8am-8pm
Call us on 01604 713335, to find out about our replacement conservatory roof options