Keeping a Conservatory Warm in The Winter
31.08.2018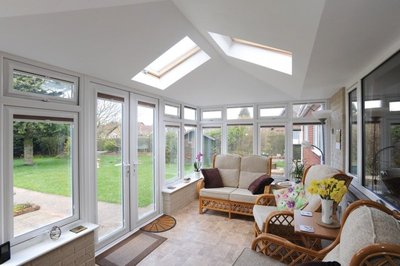 Replace the roof
Many homeowners are transforming their conservatories with fully insulated tiled roofs. With this type of roof replacement, you're able to save up to 90% of heat loss, whilst you'll only lose 5 to 10% of the light from the original glass or polycarbonate roof. If you're not keen on losing that amount of light, remember that you can always compensate for any loss of natural light with a modern skylight.
Reconsider your flooring
Another source of cold draughts and heat-loss is the floor of a conservatory and though this will not be quite as effective as replacing the roof, choosing a warm floor covering could pay immediate dividends, such as tiles with a high PEI rating. You could also consider underfloor heating and most people today choose electric as opposed to water underfloor heating because it's easier to install and not too expensive to maintain.
Take the cold edge off your surfaces
Another great way to minimise draughts is by adding blinds or curtains to your conservatory. This simple upgrade means that when you have your radiators turned on, you are able to keep some of the heat from escaping through the glazing. You can also add blankets or throws to the room too, and again this will work to take the nasty cold edge off your surfaces and make the environment feel snugger.
Reconsider your glazing
It's true that with a room largely made of glass, you can never get around the fact that the large glazed areas are not thermally efficient, however, today there is a huge range of glazing available and if your conservatory dates back 30 or 40 years, you may be surprised by the impact new double glazing can help.
Create heat
We've spoken a great deal about the ways in which you can prevent heat from escaping, which works to ensure the room stays nice and toasty, but that's only if you have a good source of heat in the room. Even a small electric heater can make a big difference in smaller conservatories so this could also be worth the investment.
There are many ways in which you can make your conservatory a warmer space during the winter months and these are just a few of the best methods. For a considerable improvement in reducing heat loss, we'd certainly recommend you replace your glass or polycarbonate roof with a tiled conservatory roof and insulated ceiling.
Back
Call us on 01604 713335, to find out about our replacement conservatory roof options
See what our customers think
We are a Consumer Protection Association Approved Craftsman! and recieve a large number of top level reviews from TrustATrader